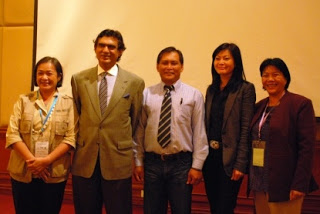 On 16 June, a back-to-back roundtable and panel session on community conservation initiatives was held at the International Symposium on Society and Resource Management (ISSRM) in Kota Kinabalu, Sabah. The roundtable focused on Model Ecologically Sustainable Community Conservation and Tourism (MESCOT), a community-based initiative comprising four villages in Sabah's Lower Kinabatangan Floodplain that includes home stays, a rainforest eco-camp, wildlife tours, lake and forest restoration, and cultural shows. Founded on pioneering agreements with the Sabah Forestry Department and since supported by the NGO LEAP, MESCOT exemplifies the potential for constructive collaboration between communities, government, and civil society. While there are many challenges in working with communities, for example, moving according to local timelines, priorities, and leadership structures, it was noted that ensuring conservation across landscapes necessitates dialogue and collaboration with communities who live in those areas. The roundtable was moderated by Jannie Lasimbang (Malaysian Human Rights Commission) and included Rosli Jukrana (MESCOT), Datuk Sam Mannan (Director of Sabah Forestry Department), Cynthia Ong (LEAP), and Anne Lasimbang (PACOS).
The follow-up panel explored the broader concept of Indigenous Peoples' and Community Conserved Areas (ICCAs) and their practical role in the conservation of biological and cultural diversity. Holly Shrumm (Natural Justice) provided an overview of international protected area policy and trends relating to recognition of and support for community conservation initiatives. Sweta Mishra (Concern WorldWide-India) described the legal recognition of forest-dwelling communities in India's Forest Rights Act 2006, which, despite barriers to local implementation, represents a significant shift towards community-based management and sustainable use of forests. Justine Vaz presented a recent study about ICCAs' potential to connect vital protected areas in Sabah through the involvement of local Indigenous communities. The study highlights opportunities within existing legal and policy frameworks to build community capacity to contribute to conservation alongside government, civil society, and the private sector. Gary Martin (Global Diversity Foundation) also discussed examples of ICCAs in Mexico, noting that certain types of recognition and support may actually undermine community conservation initiatives and solidarity.
Thanks to everyone who presented and participated in these sessions, and to Colin Filer (ANU) for supporting our registrations. Congratulations to Fadzilah Majid-Cooke (Universiti Malaysia Sabah) for successfully chairing the symposium.