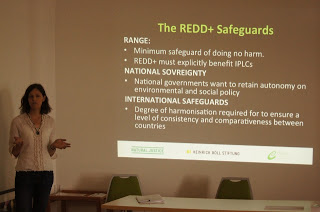 Reducing emissions from deforestation and forest degradation (REDD+) is one of the key mitigation mechanisms under negotiation within the United Nations Framework Convention on Climate Change (UNFCCC). If well-designed and implemented, REDD+ could offer many potential benefits but there are also numerous risks particularly to forest-dependent communities. The current UNFCCC REDD+ text outlines that when undertaking REDD+ activities, particular safeguards must be addressed and respected. These safeguards are guiding policies and measures to address the impacts of REDD+ on communities and ecosystems.
Natural Justice, the Heinrich Böll Foundation and the Open Society Initiative of Southern Africa co-hosted a Rights-Based REDD+ Dialogue from 11-12 November in Cape Town, South Africa. Over twenty civil society organisations (CSOs) and government and multilateral representatives from seven different African countries participated. Dialogue sessions included contextualising REDD+, safeguards, regional and national REDD+ readiness activities, CSO perspectives, synergising links between the UNFCCC and the Convention on Biological Diversity, a REDD+ role play scenario, and biocultural community protocols. Discussions were intense and key issues raised included the roles and responsibilities of REDD+ stakeholders, who benefits from REDD+ and how, effective participation, the need for independent REDD+ knowledge brokers and advisors, local level capacity building, complexities, variations and overlaps of safeguards, lack of safeguard compliance and grievance mechanisms, and the need for independent monitoring.
Looking ahead, Natural Justice will produce a report of the dialogue, outcomes of which we hope to share at the forthcoming 18th Conference of the Parties to the UNFCCC in Doha. We will also develop an e-learning module on REDD+ Safeguards to complement the current introductory module on REDD+.