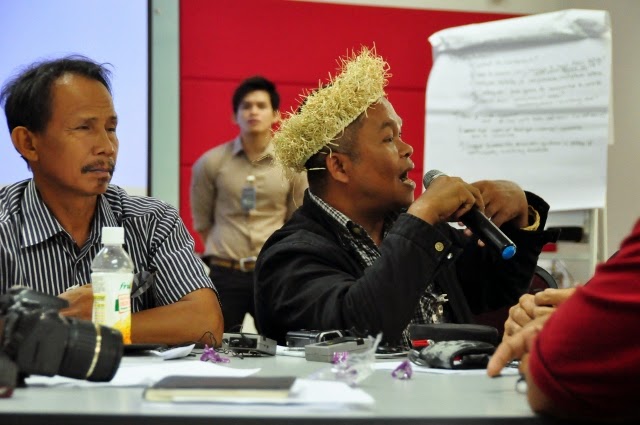 Indigenous community representative from West Malaysia.
Though not without its critics, the Roundtable on Sustainable Palm Oil (
RSPO
) is an important forum for developing voluntary certification standards and has the potential to tip the balance of the industry in favour of a more viable path for conservation and people, alongside economic development.
In 2008,
Forest Peoples Programme
published a guide to free, prior and informed consent (FPIC) for RSPO member companies. With the recent revision of the RSPO's
Principles and Criteria
, Forest Peoples Programme is accordingly updating the FPIC guidance in collaboration with Natural Justice and other members of the new Human Rights Working Group. As part of this process, the first of two stakeholder consultation workshops was held in Kuala Lumpur, Malaysia, from 30 June to 1 July. The objectives of the meeting were:
To listen to the views of all parties on what constitutes a successful process for recognising the right of indigenous peoples, local communities and other users to give or withhold their FPIC to land acquisition for the establishment of oil palm plantings;
To learn lessons from communities, companies, auditors and NGOs and from Social Impact Assessments, complaints and dispute resolution about what has and has not worked;
To contribute insights into how the RSPO Guide for Companies on FPIC can be strengthened; and
To examine more broadly FPIC in relation to the planning and establishment of oil palm holdings, including the possibility of joint ventures with communities, communities leasing lands, communities as smallholders and other options.
Participants included representatives of Indigenous peoples from West Malaysia, Sabah, and Sarawak, supporting NGOs, oil palm companies, and RSPO Secretariat staff. Holly Jonas (Natural Justice) presented on FPIC in international law. The outcomes of this and the second workshop in Jakarta (to be held in late July) will be incorporated into the revised guidance, release of which is planned for the next RSPO Roundtable in November. For any questions, please contact holly (at) naturaljustice.org.