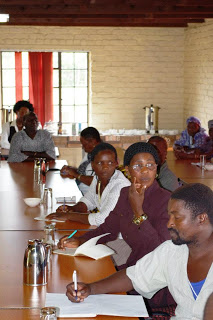 Faced with discrimination, the unauthorised use of their traditional knowledge and genetic resources, and the overharvesting of the plants with which they sustain the health of their communities, the members of Kukula Traditional Health Practitioners in Bushbuckridge, South Africa, organised themselves in 2009 and drafted a biocultural community protocol (BCP). The BCP asserts their role in maintaining community health, preserving culture, and protecting community knowledge and biodiversity.
On 8-9 February, 2012, the 30-member management committee of Kukula gathered in Bushbuckridge to assess their BCP and to draft a code of ethics to guide all of their members' practices. The gathering was facilitated by the chairperson of Kukula, Rodney Sibuyi, and by Natural Justice with support from the management committee of the Kruger-to-Canyons Biosphere. The meeting was part of the Africa BCP Initiative which is funded by the ABS Capacity Development Initiative, OSISA, the Christensen Fund, the Shuttleworth Foundation, and OPEN A.I.R.
In reviewing the BCP's impact, participants examined changes in their capacity to protect their knowledge, the potential for engaging in access and benefit sharing, the protection of their biodiversity and culture, their access to resources within protected areas, and recognition of their roles as healers from the government. Generally, participants felt that advances have been made in the capacity and willingness of Kukula members to harvest resources sustainably, in their access to resources within protected areas, in their current non-disclosure agreement with a cosmetics company that may lead to an access and benefit agreement, and in recognition of their roles by government. While they felt that changes were generally positive, many are moving very slowly. To increase the pace of these changes the community highlighted two interrelated objectives; increased organisation and cohesiveness and increased awareness at the community and government level of the role of Kukula members.
The committee then outlined the broad themes they wanted to cover within a code of ethics for all members. They then broke into groups to draft guidelines for each theme and returned to the plenary session to debate these guidelines and endorse some of them as the full management committee. The draft guidelines address the responsibilities of Kukula members: the needed qualifications; the general principles around charging fees; the importance of hygiene around the workplace, tools used and medicines prescribed; relationships with patients, other healers and doctors, and with students; and disciplinary procedures. Natural Justice will now prepare a formal document with the draft guidelines and suggested modifications based on national and international law for the management committee to review and present to the full membership of Kukula.