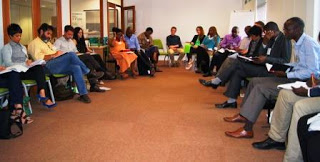 From 4-5 December 2013, Natural Justice, together with the Open Society Initiative for Southern Africa and the Heinrich Böll Foundation, hosted the 'African Views on Green Development: A Multi-stakeholder Dialogue' in Cape Town. Over 25 participants from the region representing civil society organisations, multilateral organisations, research institutes and academia attended.
The objectives of the dialogue were to consider practical experiences across Africa on diversifying rural economies, localising development and increasing sustainable production to aid in the formation of policy positions that inherently reflect African needs and interests as input for the global green development agenda. The dialogues opened with an introduction to green development and the concept of the green economy. Sessions included the macro-economic scale of green development which considered the need to move towards sustainability-orientated investments, the likelihood of reforms within the capitalist system, and the importance of values and principles to underpin green development. A separate session explored locally-driven green development opportunities, best-practices were presented, and enabling conditions required for a green transition to support community rights discussed. A green employment and trade session examined creating jobs and opening markets, the need for decent jobs, job creation tools such as government spending and taxation, and the positive and negative impacts of greening the economy on jobs and different interest groups. In the final session participants deliberated the post-2015 development agenda, and opportunities and strategies for diverse organisations to positively influence the process. The dialogues wrapped up by identifying priority areas for future engagement.
A summary report of the dialogues will be produced, and in 2014 strategic think pieces will be commissioned which will contribute African perspectives to the global process shaping the post-2015 development agenda.