For immediate release: Mombasa, 22 November 2021: With resounding calls for Climate Justice NOW, African civil society allies, with support from the Ministry of Foreign Affairs of the Netherlands, launched a new five-year consortium project which sets out to empower and support those most vulnerable to climate change.
The African Activists for Climate Justice (AACJ) project – a consortium of five Civil Society Organisations (CSOs) – the Pan-African Climate Justice Alliance (PACJA), Oxfam Novib, Natural Justice, African Youth Commission and the African Women's Development and Communication Network (FEMNET) – aims to organize and mobilise women, youth and indigenous communities to advance their solutions to the climate crisis, in order to enjoy their rights to a healthy environment and self-determination. The AACJ project will be implemented in eight African countries – Burkina Faso, Nigeria, Senegal, Ethiopia, Kenya, Somalia, Mozambique, and South Africa.
Mithika Mwenda, Executive Director of PACJA said that we cannot continue to talk about climate impacts without the experiences of vulnerable fisher folk, the poor, smallholder rural farmers, women, youth, and pastoralists who are at the frontline of climate crisis. "They need to be empowered to raise their voices, engage policy makers at all levels and mobilise their communities for climate justice right at the grassroots," he said.
"We thank our partner, the Ministry of Foreign Affairs of the Netherlands, for supporting this critical and exciting project. Issues of climate change are serious and evolving at a time when there is little political will at local and international levels," said Mwenda, referring to the recent COP26 in Glasgow.
Jock Geselschap, Head of the Climate Team of the Inclusive Green Growth Department for the Ministry of Foreign Affairs Netherlands, agreed that COP26 in Glasgow did not offer the solutions needed to address the climate emergency. "The Netherlands is in a privileged position to adapt, unlike countries in the global south, hit much harder by climate change. The AACJ partnership is supported by the 'power of voices program,' fully focused on climate justice, and led by people in the south. I'm so proud to be associated with a project that will address the biggest challenge of our times."
Cabinet Secretary Keriako Tobiko from Kenya's Ministry of Environment and Forestry echoed the urgency saying, "Drought is ravaging our people and livestock, while wildlife is being devastated by climate induced disaster. The tragedy is confirmed by science— climate change is an emergency, and Africa is least responsible. We thank the Dutch Government for investing in this amazing initiative- we are in this together."
Towards Climate Justice for Vulnerable Groups
"This is a feminist struggle," says Memory Kachambwa, Executive Director of Femnet, reflecting on the unbearable reality of climate change borne by women at the frontlines of the crisis. "We have to fight on all fronts – inclusively and intersectionally. This is a Pan African agenda, that is bold, decolonial and feminist.  Africa needs to lead the demand for climate justice."
Pooven Moodley, Executive Director of Natural Justice observed that, "While we are reaching several tipping points, there is an acceleration of destructive extractive projects on the continent which continue to violate the rights of indigenous and local communities, further destroying territories of life. The AACJ will provide back-up for community activists and environmental defenders to resist and offer alternatives which respect the rights of people, nature, and a more sustainable way of life. Natural Justice is honoured to be working alongside so many strong and innovative partners and look forward to our collective achievements."
Representatives from the African Youth Commission were pleased to have a dedicated space for young people to share their specific struggles and solutions related to the climate crisis. "We are excited that AACJ will empower young people across the continent with knowledge, skills and resources to meaningfully contribute to the radical changes needed to advance climate justice," said Kawsu Sillah, Senor Technical Advisor for AYC.
Rukia Cornelius, Oxfam's lead for AACJ said, "As Oxfam we are committed to generating Africa-focused evidence on the impact of climate change to ensure our interventions support those most impacted- women and young people. Now more than ever, the climate crisis demands from all of us bold action to preserve our planet for generations to come." 
Ends//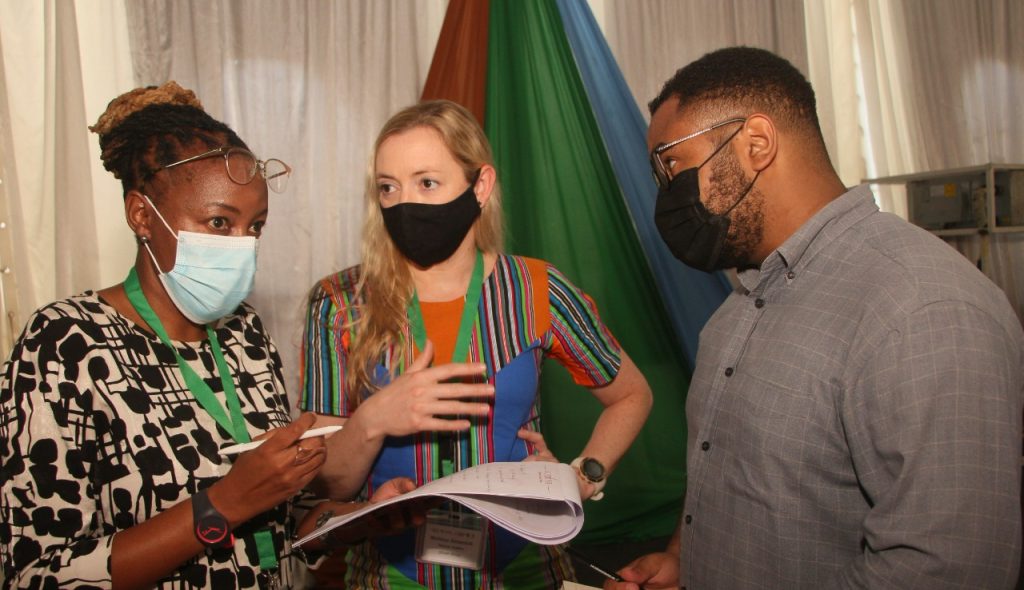 Notes to editors:
The AACJ Consortium partners believe that all people have the right to live a decent and dignified life in a healthy environment. For people living on the African continent, this right is increasingly compromised by climate change. The impacts are global in scope and unprecedented in scale: from shifting weather patterns that threaten food production and rising sea levels that increase the risk of catastrophic flooding, to pollution in cities which increases health risks, with young people, indigenous and women bearing the brunt.
Historically, most greenhouse gas emissions have come from developed countries. Yet, the impacts of climate change have been felt most by low-income countries. Climate change is increasingly devastating the African continent, contributing to food insecurity, land degradation, population displacement and stress on water resources. Many African citizens do not yet, however, connect the multiple challenges they face to the global causes of climate change.
To contribute to an African movement for Climate Justice, the AACJ has assembled partners and networks with broad constituencies and a diversity of tools and strategies to align and strengthen existing movements, organisations and initiatives advancing the environmental rights of women, youth, and local communities. Each consortium partner has presence and influence across Africa, with relevant and complementary expertise and experience.
The AACJ project is an inclusive pan-African movement to amplify the voices of those calling for climate justice, seeking to build the capacities of groups most affected by climate change to drive the climate justice movement, and seeks to advance equity, dignity, and justice for the most vulnerable and repressed societies in Africa.
For media inquiries, please contact:
Caroline Kinyulusi (Communication and Knowledge Management Manager, PACJA) caroline@pacja.org