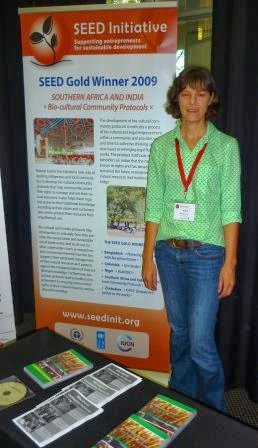 Cath Traynor of Natural Justice attended the 2014 SEED South Africa Symposium "Advancing the Green Economy: creating jobs and opportunities for green enterprises" held on 19-20 March 2014 in Pretoria, South Africa. SEED stands for supporting entrepreneurs for sustainable development. Natural Justice's Bio-cultural Community Protocols was a 2009 Gold winner in the SEED awards.
Over 150 participants including 40 entrepreneurs from private sector, civil society, academia, media, and government gathered to exchange experience, knowledge and perspectives that could advance the growth of socio-environmental entrepreneurship in South Africa. Sessions included creating green jobs and the impact of social and environmental start-ups, growing enterprises, and barriers, success factors and enablers to support enterprises. Key issues that arose included accessing financing during the initial phases of start-ups, encouraging investors to deal with risks and to understand the human value of initiatives, the limited voice and impact small enterprises have at policy level, the lack of understanding of the potential of SMMEs within the general public, and also insufficient support from government and within the regulatory environment. Discussions focussed upon finding solutions to common problems experienced by small enterprises in South Africa.
The symposium included a Marketplace with SEED winners including Natural Justice, where there were opportunities to engage with innovative start-up enterprises working at the local level. A new Social Enterprise Fund set up by the Industrial Development Corporation (IDC) and supported by the Flemish Government was launched.
The SEED Awards for Entrepreneurs in Sustainable Development is currently open for submissions for 2014 and the deadline is 8th April 2014.